Wichita Aviation Doors
Wichita, Kansas, is the air capital of the world. With many aircraft and aerospace companies based in the city, a large air force base, and multiple airports and airfields, we've accumulated a wealth of expertise in the aircraft industry.
We offer expert installation, maintenance, and repair for all types for commercial and aviation doors. We have extensive experience with hangars, megadoors, bifolds, fabric doors, fire doors, paint booths, security and more.
Call for Service:
We Provide Hangar Door Service for:
Avation Overhead Doors
Bi-Fold Hangar Doors
Four-Fold Doors
Hangar Canopy Doors
Rolling (Horizontal) Doors
Vertical Lift Hangar Doors
Vertical Lift Fabric
Aperture Doors
Hydraulic Systems
Inspections and Maintenance
Hangar Door Repair
We repair all types of aviation and aircraft hangar doors, as well as commercial overhead doors and related products. If your hangar or aviation facility needs a repair, we offer prompt service and exceptional quality. Emergency service available.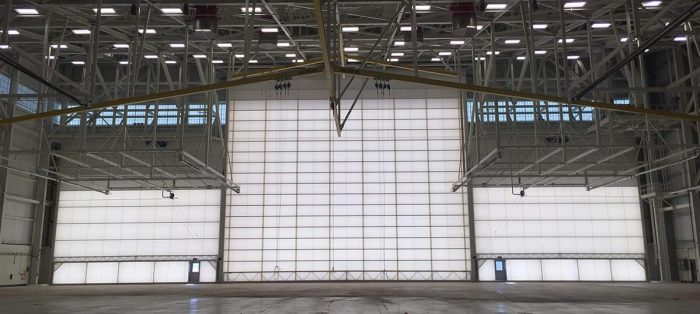 Aircraft Door Installation in Wichita, KS
Our installation services are available in Kansas, and the Midwest. We provide custom door solutions commercial, private, and military aviation customers.
From door size and cladding color, to windows and security, every aircraft door is unique. We install custom doors designed to fit your structures requirements and aesthetics. We also provide retrofitting and hardware upgrades for existing buildings.
We have a number of door options, for almost any situation. We install: overhead doors, bi-fold doors, rolling doors, megadoors, vertical lift fabric, security gates, fire doors and more.
Our products are installed to meet your project requirements, and to exceed your expectations. Every project includes our comprehensive parts and labor warranty.