Rolling Aviation and Hangar Doors
Rolling doors are also known as sliding doors or accordion doors. Rolling doors can be installed in a wide range of configuration, with custom options for sizes and design style. We provide service for rolling doors in Wichita, KS, and the Midwest.
This style of door is often used for aircraft hangars, at aerospace manufacturing facilities, and for large scale industrial applications. These doors provide large openings, excellent strength and high performance in a variety of weather conditions. Rolling doors may be installed to operate in one direction, bi-parting or in a floating configuration, where all panels move independently.
Bottom Rolling Hangar Doors are widely used in the aviation industry thanks to their size and versatility. If you're looking for a reliable, efficient hangar door, call for a free consultation:
Rolling Doors for Agricultural Facilities
Rolling doors are also frequently used in farm and ag facilities. With customizing and easy operation, rolling doors are a cost effective option for accessing farm equipment, tractors, bins, and tanks.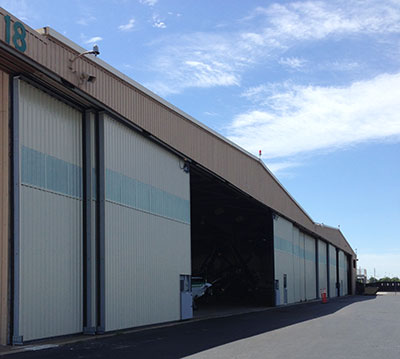 Rolling Door Benefits:
Suitable For Any Scale
Custom Configurations
Efficient Operation
Efficient Use of Space
Minimal Maintenance Costs
Rolling Applications:
Aircraft Hangar Doors
Aerospace Manufacturing
Military Facilities
Heavy Equipment Storage
Agricultural and Industrial Doors
Construction Equipment Storage
If you'd like to learn more about our specialty door products and installation services, get in touch for a free estimate.